Disclosure:
This post may contain affiliate links.
Learn more here.
There's much less you need for online classes. No more thick binders, torn notebooks, lost pencils, and melted pieces of gum (was that just me?).
But from my first couple weeks of remote learning, I've come to realize that there are just a couple of things that I always find myself using. I don't think I'll be able to survive online school without them!
Below, I've listed them for you. These are the tools I've reached for every. single. day of online classes and have helped me stay organized and sane.
Google Keep
I'm sure you've heard of Google Keep before, along with Google Tasks. I've always seen them hanging out at the side of my Google Docs files, but never really took them seriously (sorry).
It wasn't until online classes started that I actually set up my Google Keep. And let me tell you, my friend:
Google Keep has been a lifesaver. Well, it has at least kept me organized.
Because all my classes are on Zoom, I have way too many links to keep track of. Some people like to bookmark the links, which is another way to organize. However, Keep has proved itself superior (to me).
The Keep dashboard is in the form of "sticky notes" which you can customize to your own liking. You can add reminders, labels, checklists, collaborators, images…
Here's what my Keep dashboard looks like (with some edits for privacy):
As you can tell, it's super easy to stay organized on Google Keep.
The color-coding system (although there are only 12 basic colors to choose from) is great, adding labels and reminders are intuitive and easy to see, and you can pin important notes for ease of remembering.
If you love staying organized, I definitely recommend using Google Keep to get started.
PDFelement
Let me tell you a story (see if you can relate!).
It was the first week of online classes and everything was going alright. We had a couple introductory "assignments" that were worth virtually nothing, and I completed those easily enough.
And then, my English Language/Composition teacher assigns an 11-page essay for me to annotate. Mind you, we're still in online school!
This means that I had 3 choices:
Print out the entire essay, annotate it, and then scan and upload the file.
Copy-paste the text into Google Docs and try to use the Comments feature.
Use a professional PDF annotating app that actually lets me annotate how I want.
My printer conveniently broke last semester, so you can probably guess which option I went with. That's right, I chose PDFelement. And I'm so glad I did.
Let me show you how (one part of) that assignment turned out:
Don't mind the horrible analysis I did (I'm not a huge language expert), but are you guys seeing this?
I can't imagine Google Docs allowing me as much freedom and fluidity as PDFelement allowed. I was able to make so many call-out comments on individual words or phrases while also connecting them to other parts of the text.
Highlighting, underlining, drawing arrows.. everything is so much more intuitive.
YOU'LL LOVE THIS POST: 10 BEST STUDY TIPS FOR HIGH SCHOOLERS
Blue Light Glasses
Do you like migraines, sleep deprivation, and overall unhealthiness? I thought not.
Now that we're in the online school season, you're spending hours on end sitting in front of your computer screen. The eye strain that comes with that is absolutely horrible for your health, and can cause everything I mentioned above.
And that's where blue-light blocking glasses come in.
For years, I wore these tiny, oval-shaped, maroon glasses. They were hideous on me. So naturally, I developed a very strong dislike for glasses! Even when I started getting headaches while working at my desk, I would stubbornly reject wearing glasses.
Yeah, that was dumb.
Luckily, I found these super-cute glasses on Amazon. Not only do they filter out harmful blue light and UV light effectively, they look amazing! But the aesthetic is just a bonus! Ever since I got them, I've never had trouble with eye strain and migraines. 
If you've already caught yourself straining your eyes in front of your computer, you absolutely need to invest in a pair of blue light glasses now.
Grammarly
I. LOVE. Grammarly.
Grammarly has saved my butt so many times in my English classes. I can't even count the number of times I made a completely stupid grammar error in my paper and didn't even realize.
Thankfully, Grammarly has always been there for me 🙂
If you don't have Grammarly downloaded right now, you're missing out. Not just on the fun, but probably on a lot of points in your English class.
It's super simple to use and immaculate in its error-detection. And all you have to do is download the Chrome Extension (if you write on Google Docs)! 
Once it's downloaded to Chrome, it'll automatically go through your Google Doc and detect errors with grammar, syntax, and all that fancy stuff. Sound amazing?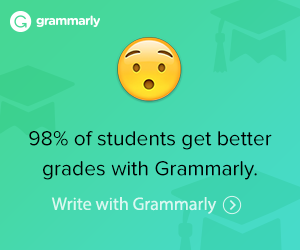 Desktop Sticky Notes
I don't know if this exists for computers other than MacBooks, but the default Stickies app is an amazing organization tool. 
You can write anything you need on them and customize them however you want (kind of like Google Keep but as a local file). They're stored on your Desktop, so you'll pretty much never lose them.
See this screenshot below of how I organized my sticky notes:
As you can tell, I organized my notes into 2 categories. The blue note is for the day or week's homework. For each class, I'll just list out the work I have to do.
The pink note is for upcoming due dates or test dates. I don't create separate sections for each class, though you could if you wanted to.
You can customize these notes with note color, note size, text font, text size, and text style. They're great for the daily housekeeping things that change often (i.e. daily todo lists), or just as a note for reference.
Conclusion
I know that transitioning from real school to online school is difficult for many. There are some things we can't change, but also some that we can. Among that, is our own sanity (I hope)!
I hope you found a helpful tool in this post. Leave a comment with the one you're thinking of trying! And if you're looking for more tips on online school, check these out: